OCT 12 2018
A PASSION FOR PURPLE
click here to purchase tickets
FACEBOOK EVENT SITE for all updates on Silent Auctions items and more about this event
Join our the fun group to talk more A PASSION FOR PURPLE event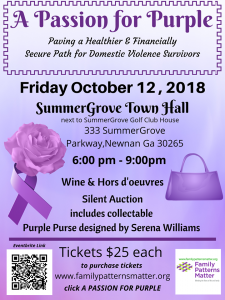 March 13 – April 30th, 2016
Family Patterns Matter together with Ana Lombardi Photography are collecting shoes. You can be the "Sole Mate" that someone out there needs.
June 23-24, 2016
On June 23-24, 2016; Wyndham Peachtree City, Georgia; Family Patterns Matter is partnering with Auburn University in bringing Cyberbullying-one of the scariest forms of bullying to our community. The summit will include kick off speaker Dr. Hinduja who will focus on cyberbullying and cyber safety. The keynote speaker will be Trish Prabhu, she is …
Coming in 2016
Family Patterns Matter chose The Mad Hatter Tea Party as our signature event to bring our community together to get a glimpse of how our youth are challenged in today's society.  In listening to our youth we heard, much like the English author, Lewis Carroll, …
Saturday, February 13, 2016
Family Patterns Matter partnered with Griffin Judicial Circuit Domestic Violence Task Force to bring a teen dating violence summit to the communities of Fayette and Coweta County. Members of Youth Against Bullying part of Family Patterns Matter volunteered at the event in passing out programs.